I've sat back and refrained from making a lot of comments about Trump, but things have gotten to such a point that I just have to be willing to admit this fact…..Trump is a complete and utter Douche. Not only is he a douche, but he's the worse kind of punk-ass man there is and it only slaps so many in the face at the fact he's the President of the United States.
Let me create a partial list of douche like activities:
1. For the first time in U.S. History, Trump has run up a 1 trillion dollar deficit for the 2018 fiscal year.
2. He revoked the security clearances for John Brennan because he was criticizing the White House.
3. Trump has placed more unqualified people in positions of power than any other president.
4. The separation of immigrant children from their parents.

5. Tax cuts for the rich instead of using funds to pay down debt.
6. Had a result free summit with Kim Jung Un.
7. Tweets like an angry and bitter woman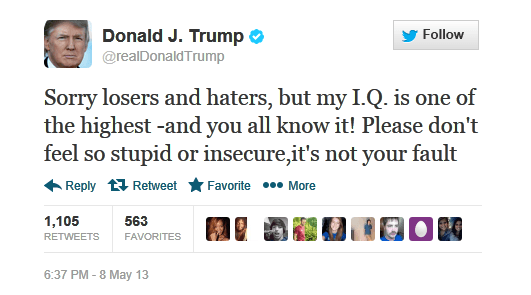 8. Renig on basic common sense laws that would protect our water and lands from being abused by corporate interest.

9. Moved the U.S. embassy to Jerusalem causing a Palestinian protest that got hundreds killed.

10. Uses subtly racist terminology in order to secure his base.

11. Equated anti- hate protestors with Nazi's as in being similar
The list could go on and on but there's nothing I'm saying here that you don't know.
What's most disturbing is that his followers are equally douchey! The green light of ignorance shines brightly for his followers and they are wasting no time exerting their ignorance on the American populace. From the nerdy tiki torch protest in Charlottesville, Va., to many in his rallies, Trump has proven that he is the imbecile whisperer. Suddenly, tertiary sources from alt-right sites have become as valid as primary sources like newspapers and journals. Truth has been skewed to the point that those in his party have completely lost sight of what it means to be apart of a democratic republic, to have morals and to stand on the side of what's just and right.
I don't know about you, but truth be told, if he is found to have conspired with the Russians, then we truly need to consider the death penalty. I know that the penalities of treason have gone from death until Life in jail, but I feel that Democracy won't mean anything if he does not pay a high price for his crimes if proven guilty.